Saving a batch of DOC(X) document as PDF

Hans Lenting


オランダ


2006に入会


ドイツ語 から オランダ語

I've been testing some Applescripts to quickly convert MS Word documents to PDF. I've found this particular script very useful: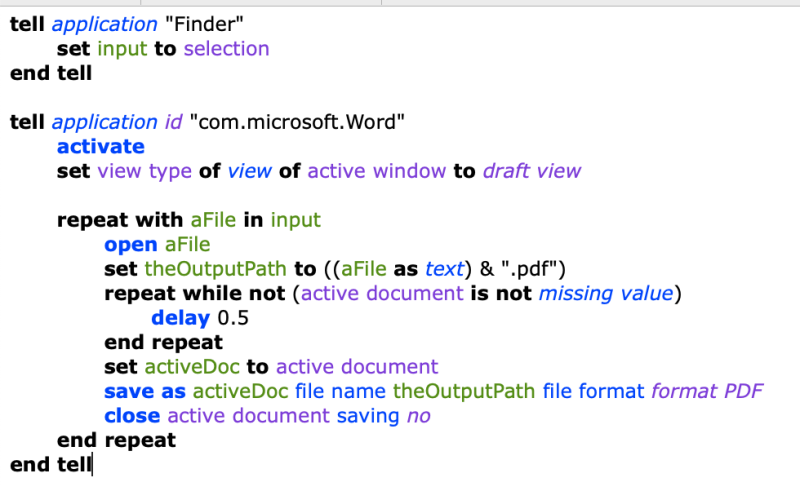 tell application "Finder"
set input to selection
end tell

tell application id "com.microsoft.Word"
activate
set view type of view of active window to draft view

repeat with aFile in input
open aFile
set theOutputPath to ((aFile as text) & ".pdf")
repeat while not (active document is not missing value)
delay 0.5
end repeat
set activeDoc to active document
save as activeDoc file name theOutputPath file format format PDF
close active document saving no
end repeat
end tell



Tested with Word for Mac version 16.44



In the Finder, select the MS Word documents that you want to convert.

Run the script.




[Edited at 2020-12-20 10:22 GMT]

Dan Lucas


英国
Local time:

15:45




2014に入会


日本語 から 英語

Hans Lenting wrote:
I've been testing some Applescripts to quickly convert MS Word documents to PDF. I've found this particular script very useful


Vaguely reminiscent of ARexx on the Amiga! Not a MacOS person, but good to see people discussing automation, thank you.

Dan
To report site rules violations or get help, contact a site moderator:
You can also contact site staff by
submitting a support request »
Saving a batch of DOC(X) document as PDF
PerfectIt consistency checker
Faster Checking, Greater Accuracy

PerfectIt helps deliver error-free documents. It improves consistency, ensures quality and helps to enforce style guides. It's a powerful tool for pro users, and comes with the assurance of a 30-day money back guarantee.

More info »
SDL Trados Business Manager Lite
Create customer quotes and invoices from within SDL Trados Studio

SDL Trados Business Manager Lite helps to simplify and speed up some of the daily tasks, such as invoicing and reporting, associated with running your freelance translation business.

More info »